Hello,
After the "peaceful dream" I had, about two days later I had this dream: My husband and I were driving in our car on our way home with our two children in the back seat, (We have two sons, a six year old and an eleven month old), we were driving down a street that didn't look familure and my husband said "there are three suns in the sky!" I said where, but he was driving so fast I didn't see it, so I told him to turn around so I could see it, he said no it could be an alien invasion, I told him to stop being silly and turn back around so I could see the three suns in the sky. He just kept driving. When we got home, it wasn't our home it was a different place we were at but in the dream I knew it was our home, I looked outside the window to see if I could see the three suns in the sky I couldn't see them, but what I did see were a line of power lines falling down in slow motion and I knew there was about to be total destruction, I looked up at the sky and I said God is this about to be the end, and I heard Judgement, the power went out in the house but there was bright light in the house like the lights never went out, some people came to check our refrigerator and my husband was with them, I walked to the back of the house and I was praying asking God what was going on, when I looked out the back window, my six year old son was standing next to me (Jaleel), we were looking out the window and the clouds turned into three colorful trees with colorful fruit on them, I knew the first tree was the tree of life, the third tree said the tree of good fruit for babies, and I told my son, look there is a tree for Jacob (my eleven month old) Then the I said are we about to be raputured up, I was lifting my hands waiting but nothing happened, then the sky went black and I was saying God what is going on, my sister (a year younger than me) appeared in the room and was looking out the window too. Then across the sky in big letters flashed John and I knew that was the deciple John, and I got excited and said John, then Revelation flashed across the sky, and I said Revelation, then John flashed across the sky again, then Revelation flashed again but this time there was a figure like the grim reaper at the end of the word. Then I woke up. I am really not sure what this meant at all or what was God trying to tell me. I read Revelation again and this time I understood more than I did when I read it before, but I still didn't understand everything. Any thoughts on what God could be trying to tell me? Thanks.
funny I recently had a dream abut alen invasion. The Bible speaks of the Nephilim. They are demons that are deceptive and disguise themselves as alien. We should be seeing more of this in time coming. I just did a post in the National Prophecies about this to see more.
Junior Member





Posts

: 141


Points

: 182


Join date

: 2009-06-24



Hello
When I read your dream, I wonder if your dream represents signs and wonders that are going to manifest before the end days? (try reading leviticus 23 and 25). When I thought about the trees i thought about "new earth", that will come once the former one has been destroyed. I also thought about "bearing fruit".

Just like in Josephs's dream where the stars literally represented his brothers, I wonder what the 3 suns and 3 trees represent here? Now, I don't usually look at just symbols in dreams, but these figures stuck out to me as significant. Could the three represent you and your two sons? Or you and your husband and then your children? Or maybe just with you personally? Is there anything in your life that comes to mind that could represent three?

Also I wonder if in the midst of disaster (power lines falling) there is still bearing of fruit? If you dive into God's word and connect with him, you will bear fruit but if not, you will not bear fruit (be prosperous) apart from Him (John 15).

Please pray on what I've said
desiree
Supporting Member/Moderator





Posts

: 2606


Points

: 1835


Join date

: 2008-07-28


Age

: 33


Location

: ALABAMA



Good Interp Desi...VERY good!!!


Do not fight FOR victory, but fight FROM THE PLACE of victory. Jesus has ALREADY won the battle!
Moderator





Posts

: 3879


Points

: 4071


Join date

: 2008-08-04


Age

: 51



Thanks Cholette sweetie!
All glory to God!
Supporting Member/Moderator





Posts

: 2606


Points

: 1835


Join date

: 2008-07-28


Age

: 33


Location

: ALABAMA



Does anyone follow spaceweather.com they have a new picture every day and recently very strange ones have been popping up and they guess why the sky looks as if it does. I will try to post some. here is directly from the site,
When I got back home I was treated to another kind of light show," he says. He photographed the display using a
Nikon D80
: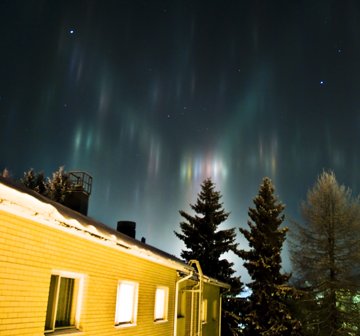 It was an apparition of
light pillars
, a.k.a. "false auroras," caused by urban lights reflected from ice crystals in the air. "They danced in the icy sky like auroras as a few Geminids flew past in the background. All in all, it was a lovely spaceweather day
well i'm having trouble getting the others up here
Desiree,
Thank you for your imput. For some reason the significance of the three suns in the sky stuck in my mind too. I didn't even think to make the connection of the three suns and the three trees. Because there were three suns in the sky and three trees it does make me wonder if there was any significance to them. I can't think of anything personally in my life that represents three. Like you said maybe its my two boys and I or my husband, my kids, and I, I'm not sure. I will be praying for God to reveal this to me and about what you said because it does make a lot of sense. I didn't think about that before you mentioned it. Thanks a lot. God bless you. I will let you know if God shows or tells me anything.
Usemelord,
The picture you posted looks to me like people going up to heaven, or spirits in the sky looking down at earth. Although they have a "scientific" reason for why this happened, I believe God does show us signs in the sky for us to see. It says in the Bible, (I can't remember where exactly) that in the end days we should look to the heavens for signs. A couple of weeks ago my husband and I were driving in the car on the way to the store it was about 3pm I am always looking in the sky for signs, I also enjoy looking at the sky to admire God's beautiful creation, well as I was looking up I saw a bright light through the clouds that was only in one spot and there was a light red color next to it, I tried to take a picture of it with my cell phone but couldn't zoom in close enough, my husband saw it and so did my six year old son. I don't know what it was, but I believe it was a sign in the sky from God.
Sorry couldn't help but post this new picture from last night. Looks like a sword about to go into the earth
MONSTER FIREBALL:
On Monday morning, Dec. 14th, at 3:59 am Pacific Standard Time, a piece of extinct comet 3200 Phaethon hit Earth's atmosphere over the Mojave desert in California. This was the result:
Wally Pacholka
. "I caught it exploding over the Hercules Finger rock formation
That was the scripture I thought of also. I think of it alot when I look up

[url=http://miasherwood.forumotion.net/javascript:verseResultsPage('bible', 1, 'jer', 'Jeremiah', '10', '2', 'NIV')]Jeremiah 10:2 NIV[/url]

This is what the LORD says: "Do not learn the ways of the nations or be terrified by signs in the sky, though the nations are terrified by them.
You're welcome sperkins! All glory goes to God always!

yes, please do let us know when God reveals to you the meaning!

Desiree
Supporting Member/Moderator





Posts

: 2606


Points

: 1835


Join date

: 2008-07-28


Age

: 33


Location

: ALABAMA



---
Permissions in this forum:
You
cannot
reply to topics in this forum