In this dream that I had, I looked to be outside at an apartment complex. (The complex isnít familiar to me.) I walk towards some stairs an began to walk up the stairs. I noticed as I walked up the stairs each step was painted. The colors were black, green and yellow. It reminded me of a flag of some sort. I also noticed a symbol on the steps to, but I donít recall what it look like. When I got to the top of the stairs, I saw a door and in front of the door was a huge gold statue that was blocking the door. I push the statue over to get into the door, but before entering the door hesistated and decided to pick the statue up and then I through it over the balcony and it broke. Then I went inside.
Hi Elegant Angel. I am from Jamaica and the colour of the flag of my country is black, green and yellow. I don't know if the colours in your dream represent the flag of my country though.
Hello Butterfly. This is very interesting to know. This may play a very significant part of my dream. I have never been to Jamaica before.
Elegant Angel,

I'm feeling more that Jamaica could symbolize a particular nation (class) of people that you are going to progress toward in life. For what? I don't know. But I do believe that the statue has alot to do with why? You tossed it over the balcony to get in. The statue could represent an image that will be destroyed and in doing so it opens the door to a new opportunity.

There is some sort of idol that through you God is going to destroy for again a certain class or group of people and from there a new opportunity will present itself.

Just my thoughts. Keep what helps.

Be Blessed,
SeekYeFirst
New Member





Posts

: 67


Points

: 0


Join date

: 2008-12-30



Hi Elegant Angel I have decided to give you a brief overview of Jamaica. First of all below is the flag of Jamaica.
Jamaica is an island in the Caribbean. It is located 90 miles below Cuba.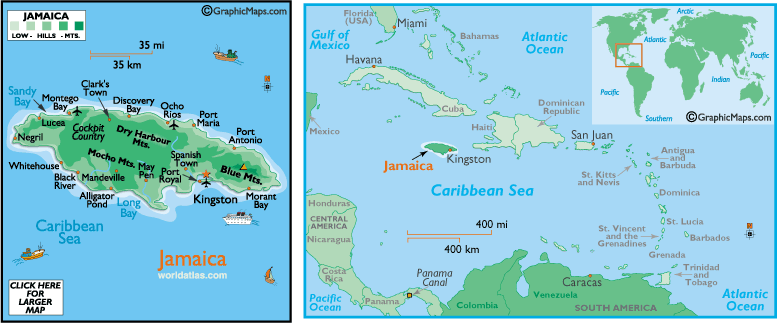 We have about 2.6 million people in Jamaica. We are an English speaking country. We have a lot of decent and hard working people in Jamaica. However there are a lot of very bad men including women in the nation. We have a whole lot of crime and violence. People are being murdered relentlessly including little children and pregnant women every single day for e.g six people and more are being murdered on average everyday, the police can't help us, the government can't help us. Me and my entire immediate family were almost killed twice by gunmen. We are a poor nation and there is a lot of corruption in our country. Politics and crime are interlinked very strongly. There are a lot of gangs in Jamaica. Alot of young men don't have any fathers because the fathers have abandoned them. There are a lack of jobs and this is a contributor to crime. Even though Jamaica has a lot of problems we have the most churches in the world per capita. Our Churches though have not done enough because there are a lot of persons in our churches who call themselves Christians but are not true Christians. A lot of church people look down on non-Christians and as a result a lot of non-Christians want nothing to do with the church. There are a lot of gossiping, backbiting, ridiculing going on in the churches. Our churches are sick. We are a popular island in terms of the food we have (Jerk Chicken), our music is popular around the world (reggae, dancehall), our dances are popular (Gully Creepa, Nuh Linga), we did really well in the Beijing Olympics although we are a small nation. Jamaica is a blessed nation but we have a lot of crime and violence, corruption and sexual sins which affects us really badly and brings down our country. Also a lot of top level people are involved in corruption and a alot of them are involved in freemasonry or the Masonic lodge. Also Jamaica is the murder capital of the world.
http://www.bbc.co.uk/caribbean/news/story/2006/01/060103_murderlist.shtml
You know we live in our own individual worlds and fail to see what is going on in other parts of the world. I appreciate your insight and I will definitely keep you and your family cover in pray. Pray and cover your family under the precious blood of Jesus. Bind the strongman of the enemy that has tried to bring harm to you family in the name of Jesus. I will send you an email link of prayers that has really been a blessing to me. I know that God has a plan for me and it very well maybe for that region where you live. God bless you and I will be intouch!
Thank you Elegant Angel for praying for me and my family, I really appreciate it. Sometimes it seems that things are so bad that you wonder how things can be better. But for the last few months I am feeling hopeful concerning my country. I remember asking God what we in Jamaica could do about the crime problem and God gave me this bible verse found in 2 Chronicles 7 verse 14
2 Chronicles 7
[14] If my people, which are called by my name, shall humble themselves, and pray, and seek my face, and turn from their wicked ways; then will I hear from heaven, and will forgive their sin, and will heal their land.
God bless you Elegant Angel !!!!
---
Permissions in this forum:
You
cannot
reply to topics in this forum